Welcome to the Michael and Kitty Dukakis Center for Public and Humanitarian Service!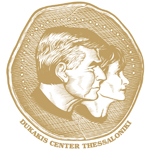 You have something unique to offer by dint of who you are. Even if something in theory has been done before, it hasn't been done by you in the way that you can do it. It's time to step forward and to recognize that you can make a contribution.
Dorie Clark
Launched in September 1999 as the Michael S. Dukakis Chair in Public Policy and Service, the Dukakis Center is the premier private, independent think tank in Greece, unique in Southern Europe for its focus on citizen engagement. The Dukakis Center is one of three dedicated outreach centers at the American College of Thessaloniki.
The Center contributes specialized undergraduate and post-graduate training and instruction in support of ACT's academic programs, offers opportunities for project-based internships and experiential learning, carries out applied research in select policy areas, and hosts events and public service initiatives for the benefit of the larger communities of Thessaloniki and Northern Greece.
The Dukakis Center celebrated its fifteenth birthday in 2014 with a series of events on and off campus.
The American College of Thessaloniki is proud to host a center bearing the names of Michael and Kitty Dukakis. I invite you to visit our site, and to send your inquiries about anything that might interest you here.
David Wisner
Executive Director
Dukakis Center