Alexandros Mallias returns to the Dukakis Center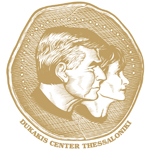 Former Greek Ambassador to the United States Alexandros Mallias spoke to ACT students on January 30 under the auspices of the Dukakis Center, on the siubject of his most recently published book, The Middle East and Pandora's Box.
Ambassador was in town to promote his book at various venues and graciously accepted an invitation to return to ACT, which he first visited for a Dukakis Lecture in 2011, following a long period of gestation dating back to 2004.
Ambassador Mallias enjoyed a long and distinguished career in the Greek foreign service, which included a stint as Director of the Department of Balkan Affairs in the Ministry of Foreign Affairs. More recently he had been an active member of To Potami, the centrist political party created in 2014.
This is Ambassador Mallias' third book.