Experiential Learning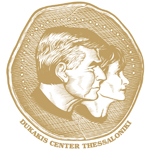 The American College of Thessaloniki fully subscribes to a pedagogy of active or experiential learning -- of learning by doing. Degree candidates and qualified study abroad students may undertake formal internships and engage in other experiential learning activities on and off campus under the auspices of the Dukakis Center.
For instance, students in the Civil Society senior seminar design and implement a community service project. Other opportunities include design and maintenance of web-based portals, research and outreach assistantships directed by individual faculty, and occasional internships with organizations off campus.
Under special circumstances students may do formal structured internships for credit, registering for Public Service 299 at ACT or for a similar credit-bearing project at their home campus.
Eligible students may interact directly with senior practitioners in public affairs in the context of Dukakis Center Master Classes featuring senior experts and practitioners. The Center also organizes study trips and simulated diplomatic tours, and a variety of civil society projects. Finally, qualified students participate occasionally in local and regional MUN simulations.
Sample Civil Society Projects
​Sample Study Trips
Sample master classes
Current projects
The Dukakis Center has current openings for a variable number of interns to take part in an ongoing project, "Public service in the 21st century," during the 2017-18 academic year.
The interns will be assigned various administrative tasks within the Center, engage in basic research, and, time permitting, design and implement their own small-scale projects conceived to define public service in this time and place. Interns will involve themselves in event management coordination leading up to the launch of their event(s).
Study abroad students are also welcome to undertake research projects on public service opportunities at their home campuses in the US.
Secondary administrative tasks will include database development, clerical support, accounting, communications, and logistics. Interns will be required to keep a log, portions of which maybe published on the blog New Politis.
Recent blog posts:
"The European Response to the Global Migration Crisis"
"Politis Forum: to vote or not to vote"
"Public Service 101"
"Defining Public Service in a Post-Democratic Age"
"Citizenship Resources Online"
"The Sprit of Eidomeni"
"Barriers to Healthcare Access for Roma Women in Thessaloniki"
For further information please inquire at dukakis-center@act.edu.