Current Interns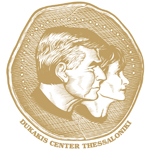 Christina Kelekidou is a senior in International Relations at ACT. A native of Thessaloniki, she has undertaken several internships in local humanitarian and social organizations, including Rotaract and the Smile of the Child, both based in Thessaloniki. Her main academic interest is political Theory and she plansto pursue her studies further in that field, with a view toward pursuing an career in academia. In her free time she dedicated herself to voluntary work and preparing projects with her instructors or at the Dukakis Center. Christina is the Dukakis Center Senior Intern for 2017-18. 

---
Rachel Bauman is a sophomore at Rutgers University (New Jersey) currently studying abroad at ACT. Rachel is pursuing a dual degree in Political Science and Cultural Anthropology with a minor in International and Global Studies. She has experience being a part of two governing councils at her home institution and has previously studied religion abroad in India. She has many interests involving the arts and humanities, as well as keeping up with current events, and has been involved in various community service projects and nonprofit work. Apart from these interests, she loves to travel and explore the culture and history of the world around her.
---
Gordan Jordanov
is Junior at ACT, majoring International Relations and minoring Human Resource and Management. He has been volunteering in NGO's for 10 years and has participated in a number of multicultural and multiethnic workshops and activities around the world. His interests include children's and refugee rights, diversity, conflict resolution, democracy, and sustainable development. He played volleyball professionally for 11 years and for his national U-23 team another 2 years. Since 2015 Gordan has taken part in numerous events and activities organized by the Dukakis Center.
---
Djordje Terek is a junior in International Relations at ACT. He has done multiple internships in business in the past; however, after a certain period of rethinking he realized that he would rather forge a career in politics and diplomacy. To this end he recently became a member of ''Center for International and Public Policy'' in Serbia, his home country. There he shares in the general goal of promoting international cooperation in the fields of foreign policy, diplomacy, economy, education and culture. At the Dukakis Center Djordje is working on projects having to do with democracy in the Balkans.
---
Mikhail (Misha) Tishin is a senior in Computer Science at ACT. He took a first degree in Psychology from the University of Lipetsk in his native Russia. He has a wide range of interests, in technology, social studies and art, among which he tries to find common points. He likes to devote his free time to web projects, creating web sites, e-shops, and applications relative to them. Apart from coding, he likes to draw and work with graphics which he can apply in video games. He reads constantly about current events around the world.