Current Interns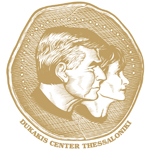 Iliyan Iliev is an ACT senior majoring in International Relations and minoring in International Business. He has participated in multiple international conferences, related to politics and culture, and has done internships with several Bulgarian agencies. He has additional internship experience working on cultural projects for the EACEA's Youth in Action programme and has participated in writing projects for Interreg Europe and News-Decoder. Iliyan co-produced a mini-documentary on the Dukakis Center in May 2014, and was responsible for film and photography at the Center during the 2015-16 academic year.

---
Maria 'Ester' Kalogeroudi is a recent alumna of ACT, where she studied International Relations. She is currently interning at the Dukakis Center's think tank, where she coordinates collaboration with the Paris-based alternate mei project News-Decoder. Maria is passionate about academic and creative writing, economic theory, computers and, most of all, research. She has worked as a librarian assistant, in human resources, as a volunteer private tutor and freelance editor, and she is eager to participate in projects involving contemporary issues.
---
Mikhail (Misha) Tishin is a sophomore at ACT in Computer Science. He took a first degree in Psychology from the University of Lipetsk in his native Russia. He has a wide range of interests, in technology, social studies and art, among which he tries to find common points. He likes to devote his free time to web projects, creating web sites, e-shops, and applications relative to them. Apart from coding, he likes to draw and work with graphics which he can apply in video games. He reads constantly about current events around the world.