Alumni corner -- Aleksandar Jovanoski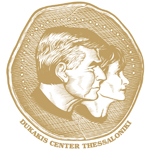 Aleksandar Jovanoski was a student at ACT from 2002 to 2006, when he graduated Magna Cum Laude with a BA in International Relations. Among the most active students in his graduating class, Aleksandar has already enjoyed considerable success in the field of foreign affairs. Now he writes that he is poised to return to his studies, having been offered a prestigious Chevening Scholarship by the British Government.
"After graduation, I was employed by the Secretariat for European Affairs in Skopje. In 2006, I was awarded the NUFFIC scholarship by the Royal Dutch Embassy, also in Skopje. I obtained a MA in European integration from the University of Brussels, with a specialization in political integration (Justice, freedom and security). After I returned to Skopje, I assumed a position in the Cabinet of the Deputy Prime Minister in charge of EU affairs, dealing with political criteria issues. During this time several integration projects were finalized for FYR Macedonia, including the recommendation for opening accession negotiations and the visa liberalization process.
In 2011I left the Secretariat with six other colleagues. We created the European Policy Institute (EPI) in Skopje. Our idea was to establish a highly specialized EU affairs think-tank, thus contributing the accession process of the country. Besides being one of the founders of the Institute, I currently hold the position of Programme Coordinator for Democracy and Rule of Law. By utilizing my previous experience I was able to assume managerial and research activities in the area of political criteria, judiciary, fundamental rights, etc. Also, I am the coordinator of Network 23, which is the first national watchdog mechanism to conduct monitoring and evaluation of public policies in the area of judiciary and fundamental rights.
Finally, to close the circle, after years of consideration I applied last year for a Chevening Scholarship provided by the Foreign Office of the British Government. I am now finalizing my admission to University College London, where I will take a Master of Research Programme in Public Policy. As I prepare for this academic endeavor, my reflection goes back to ACT and the Dukakis Center, which have both had a direct impact in shaping the man I'm today."