Dukakis Center at annual Navarino Network symposium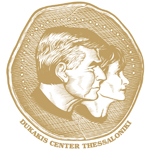 The Dukakis Center was present at the annual Thessaloniki International Symposium organized by the Navarino Network, Sunday, October 18, the theme of which was "The World in 2016 and beyond." 
Dukakis Center director David Wisner moderated two sessions during the day-long event, which featured leading scholars and practitioners in contemporary international affairs. Notably, Wisner presided over a session featuring NATO's Assistant Secretary General for Political Affairs and Security Policy, Thrasyvoulos "Terry" Stamatopoulos.
The American College of Thessaloniki was one of the co-sponsors of the event, along with the Konrad Adenauer Foundation and other local institutions.