Dukakis Center pilots "Young Citizens" project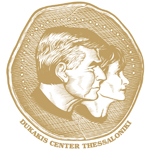 The Dukakis Center piloted a new project in April and May, 2017, amid sixth grade pupils at the First Elementary School of Panorama.
The pupils in Ioannis Vrettos' ΣΤ2 class deliberated and voted on a resolution to address the problem of graffiti in public spaces near their school, in such a way as to develop a common area for children to express themselves freely and take responsibility for the upkeep of this same space.
The purpose was for the pupils to learn through their petition and subsequent communications with municipal authorities the proper steps for young citizens to take in order to address concerns about, and propose solutions to, local issues that matter to them, and thereby develop a more mature relationship with the public spaces in their neighborhood. The workshop was designed to reinforce one of the pupils' lessons in their social studies class, which had to do with citizenship and civic responsibility.
The pupils eventually proposed to the Mayor of Panorama that one or both of the small out buildings next to the basketball court at Gallanou Park in Panorama be transformed into a sort of three-dimensional blackboard, on which chalk images could be drawn and then erased by users.
The project subsequently entailed being in contact with the mayor's office, with the school director, Athanasios Nikas, with the president of the Parents' Association of the First Elementary School, Areti Valatidou.
As an interim step, the Dukakis Center procured three unused white boards from Anatolia College, which the class offered in turn to their school via the good offices of the parents association, to be affixed in covered recreational spaces at the school, in response to part of the pupils' original request.
The workshop was designed and conducted on behalf of the Dukakis Center by cultural and financial advisor Fotinie Efstratiadou, who also liaised with the Parents' Association, the Municipality, and school authorities. Dora Psoma, a specialist in civic education projects and an elementary school teacher in Thessaloniki, provided technical assistance. In attendance during the workshop were Mesers Vrettos and Athanasios Nikas, director of the school.
The boards were mounted before the pupils' end of year festival with the support of staff from Anatolia College.
The workshop was piloted in advance of a major event the Dukakis Center will host in Thessaloniki in October 2017 on graffiti and vandalism in public spaces, at which the outcomes of the Center's efforts with young people in Panorama will be showcased.