Dukakis Center at Reworks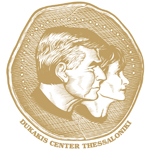 On Wednesday, September 13, the Dukakis Center and the US Consulate General of Thessaloniki will co-sponsor the keynote session at this year's Reworks Agora event, a Dukakis Lecture by Elizabeth Barry on "Reports from the Frontiers of Democracy: Implications for Urban Design."
The lecture will take place at 2:15 at the Thessaloniki Concert Hall (Maurice Saltiel Hall) and will be an integral part of the 17th annual Reworks contemporary music festival.
As director of urban environment at Public Laboratory for Open Technology and Science, Liz Barry develops geographic tools and civic science methods for collaborative cities. She holds an undergraduate degree in landscape architecture from NCSU, and a MSA+UD from Columbia University. She teaches at Columbia University and Parsons the New School for Design. Previously, she worked at Skidmore, Owings and Merrill planning international new cities and campuses, at Durham Inner-city Gardeners (DIG) coordinating youth urban agriculture enterprise, and traveled around the country catalyzing interaction among strangers with a "Talk To Me" sign – a project that received considerable international press.
Ms Barry is also co-founder of TreeKIT, in which capacity she has launched a project to map all the trees in New York City.