The Future of Democracy intern projects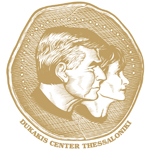 The Dukakis Center is hosting an especially large cohort of undergraduate interns this fall, including a talented cohort of Study Abroad students from universities throughout the US. One of the projects they are working on is called "The Future of Democracy."
The Dukakis Center has been concerned with this topic ever since Michael Dukakis delivered the inaugural Dukakis Lecture in September 1999. The theme of democratic reform has been prominent, particularly in a more recent series of conferences, culminating in the April 2016 conference "Civic Engagement and the Practices of Democracy."
Now the Center has a new twist on the theme. This fall at ACT a handful of Dukakis Center interns are pursuing innovative research on democratic engagement. Two teams will work on the following project areas.
1. US general election -- anthology of "Don't vote" arguments. This project will entail two sorts of inquiry. First, interns will search for recent articles on the Internet encouraging voters not to vote if they do not like the candidates (presidential or down ballot). The interns will produce an annotated list of such articles, to be posted on Politis, the blog of the Dukakis Center. (Here is a recent example.) The group will then devise a survey of ACT and study abroad students asking them to articulate their own "don't vote" arguments. The resulte from this in-house survey will be posted on Politis also.
2. US general election -- resource on voter integrity. The purpose of this project will be to create a list of online resources dedicated to informing Americanb voters and dispelling rumors regarding voter fraud and rigged elections. For instance, the Supervisor of Elections in Seminole County, FLorida, who has spoken at a Dukakis Center event already this fall, maintains a daily exchange with voters on Facebook. Here is another useful resource.
3. Democracy in Southeast Europe. Intern Mikhail Tishin is building a web page dedicated to electoral activity in Southeast Europe in the coming months. Interns will provide three categories of information for the site: systems; parties and personalities; issues in the news (specifically, news stories in English).
The first two project teams will present their findings in erly December 2016, before the study abroad students return to the US. The third group will continue updating the dedicated web page throughout the spring 2017 term.