Masterclasses, public service, and liberal education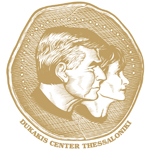 During the Spring 2014 semester at ACT the Dukakis Center introduced the practice of inviting experienced practitioners to spend short periods of time to work on a project with select groups of students from various academic programs. The Center hosted two masterclasses that term, in film making and in photography, the latter culminating in an exhibition of environmental portraiture featuring candidate in local and European elections, under the guidance of renowned local photographer Chryssa Nikoleri.
The purpose of the masterclasses was multifold. First, they aimed to incorporate a discrete pedagogical element in the activities of the Center, in keeping with the Center's mission. However, it was deemed equally important to incorporate a non-academic dimension to the projects, in this case art and photography. But the sessions were also designed to give the students the kind of practical, pre-professional experience that is at the heart of ACT's liberal education, and which has been neglected to a degree while ACT collaborates with Open University in int degree program instruction.
Furthermore, the exercises were designed to encourage a multicultural team of students involved to define public service by doing; each student photographer was actually an intern tasked with drafting a statement on public service to be included with the brief for their collection of photographs in the exhibition. As Simona Ramos wrote,
"I believe that our project has a bigger aim than appears initially. I think that depicting the different public faces we have tried to tell a story and eventually bring people closer together. For me that is what public service stands for, a combined, vigorous work of diverse people who ultimately strive for the same goal: a better community, better opportunities and a better life."
Valbona Makovci put it even more succinctly, «[M]y contribution to civic and public service is precisely this: to help one create, understand and get involved in different dimensions and spheres of life, including politics, elections and choosing the best representative of their ideals.»
The Dukakis Center actually pioneered the use of masterclass sessions back in 2004, when UN Under-Secretary General Alvaro de Soto sat in an intimate setting with a small group of select students from ACT and the University of Macedonia to discuss episodes from his career as an international diplomat, before delivering a major lecture at ACT to a broad public. The Center subsequently hosted numerous such sessions to great effect as compliments to its famed  lecture series, hosting HM Symeon of Bulgaria, Edi Rama, Brady Kiesling, and many others.
This past academic year the Dukakis Center revived the newer format of hosting practitioners who conducted practical workshops with select student cohorts from ACT and the local public universities. In November, 2015, the Center hosted photojournalist Dimitris Bouras (ACHS Class of 1994) for a masterclass in photojournalism. Bouras conducted three practical training sessions and delivered a formal lecture on campus, before accompanying a team of photojournalism interns on a shoot to the refugee camp in Eidomeni. The group plan to organize an ehhibition on campus of the photographs taken in the camp.
During the Spring 2016 semester the Dukakis center organized two workshops in support of the international conference on «Civic engagement and the Practices of Democracy,» which took place on April 18. ACT students were invited to receive training in polling techniques with the Public Opinion Research Unit at the University of Macedonia Research Institute, for a national poll on civic disengagement commissioned by the Dukakis Center, and to learn stop-motion animation techniques with experts from the Thessaloniki-based company AddArt, to produce animated get-out-the-vote campaigns.
The Dukakis Center has subsequently hosted two more masterclasses, one in new media with Nelson Graves, founder-director of the Paris-based alternative media project News-Decoder, and ACT alumnus Pantelis Rafail (2014), founder of Deploy Digital, for a workshop in digital media. The masterclass is here to stay as a staple element of the public service repertory of the Dukakis Center.