Second Festival of Civic and Urban Culture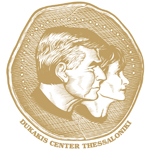 During a ten-day period from April 11-20, 2016, the Michael and Kitty Dukakis Center for Public and Humanitarian Service at the American College of Thessaloniki will host its Second Festival of Civic and Urban Culture.
This year's Festival will include, among others, a masterclass in animation for young voters, the objective of which will be to have attendees produce short animated get-out-the vote campaigns; a masterclass in reporting and blogging; one or more public focus groups of non-voters (apohi); workshops on polling and in direct democracy; a graffiti paint-off; and an international conference, on April 18, on "Civic Engagement and the Practices of Democracy," to be co-hosted by the Public Opinion Research Unit, University Research Institute, University of Macedonia, who will also conduct a national poll on voting behavior in Greece in 2015 at the behest of the Dukakis Center.
The conference on will consist of a series of round table sessions featuring distinguished scholars and experienced practitioners to discuss problems and solutions in contemporary democratic governance, and to consider what is being done to encourage engagement, particularly among younger citizens, in municipalities, in schools, in civil society, and in the private sector. Some twenty guests from Greece, France, the UK, the US, and Canada will converge on Thessaloniki for the one-day event.
The Dukakis Center organized its inaugural Festival of Civic and Urban Culture in the spring of 2014.
First, the Center hosted an open debate, dubbed "Politics at the Coffeehouse," on the May 2014 local and European elections. The debate, featuring prominent Greek journalists and bloggers, focused in large part on the incidence of unprecedented numbers of younger candidates in the elections, and was further animated by the presence of several local university students running for seats in the Municipal Council of Thessaloniki.
The second event in the 2014 Festival was an exhibition of photography by four Dukakis Center interns, who had attended a masterclass in environmental photography with renowned photographer Chryssa Nikoleri and were assigned to shadow candidates running in local and European elections. The exhibition took place at the Port Annex of the State Museum for Contemporary Art for three weeks during the month of June 2014.
Finally, the Dukakis Center and Southeast European Studies at Oxford co-hosted the Fourth Dukakis International Symposium, with keynote speaker Dr. Erhard Busek and a group of distinguished panelists, who engaged in a public discussion on the theme of "The Future of Democracy in Europe and Beyond."
It is intended that the Festival will become an annual feature in the events calendar of the Dukakis Center.