Dukakis Center scholars lecture at the University of Macedonia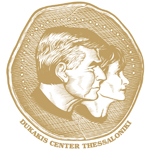 This past November 29, some 150 students and faculty from the Universities of Macedonia and Thessaloniki heard ACT instructors Lambrini Nassis and David Wisner speak at a public conference on the recent US elections, hosted by the Greek Association of Political and Economics Science Students at the University of Macedonia.
Wisner offered an overview of the US system of government, followed by some of the more unusual features of the 2016 elections. Dr. Nassis then spoke on the Electoral College and on voting behavior in 2016.
This is the third time the Dukakis Center has collaborated with the Association, more popularly known as GRAPESS, whose members are drawn from the two public universities in Thessaloniki. GRAPESS members had previously taken part in three Dukakis Center events dedicated to the 2016 election in May, in October, and again in November.
The University of Macedonia conference was also attended by Professor Theodosios Karvounarakis, while Evangelos Plakas, a journalist at TV100 and Makedonia newspaper, moderated the event.