Dukakis Center Honorary Advisory Board Members Fall 2016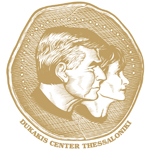 Members ex-officio
David Wisner (Executive Director)
---
Stamos Karamouzis is Provost and Vice President for Academic Affairs at the American College of Thessaloniki. He holds a Ph.D in Computer Science from the College of William & Mary and is a graduate of the Institute for Management and Leadership in Education at Harvard University. Professor Karamouzis has 30 years of experience in the sphere of education, being previously appointed as Dean of the School of Computer & Information Sciences at Regis University in Denver, Colorado, occupying the Anita & Truman Arnold Chair in Computer & Information Sciences (CIS), and heading the CIS Department at Texas A&M University – Texarkana. Among other administrative appointments, Professor Karamouzis conducted basic and applied research at NASA's Langley Research Center, where he also served as a Resident Research Associate of the National Research Council.
Members
Pavlos Apostolides graduated from the Athens Law School, University of Athens, and served in the Hellenic Diplomatic Service since 1965 and was Ambassador of Greece to Cyprus and Permanent Representative of Greece to the European Union in Brussels. He also served as General Secretary of the Ministry of Foreign Affairs since 1998, and Director of the National Intelligence Agency until November 2004. Mr. Apostolides was a Director of Alpha Bank A.E. between 2004 and 2011 and has been a Non-Executive Independent Director of Alpha Bank A.E. since June 26, 2012.
---
Alan Cafruny is a Henry Platt Bristol Professor of International Affairs, teaching in the areas of International Relations and European Politics. A Ph.D from Cornell University, he is the author of numerous books and scholarly articles, and has publications in a good number of journals in the United States and Europe. He is a former member of the Executive Committee of the European Studies Association (EUSA) and a coeditor (with Herman Schwartz) of the series:  Advances in International Political Economy, sponsored by the International Political Economy Section of the International Studies Association.
---
Alan Henrikson is Lee E. Dirks Professor of Diplomatic History and the Director of Diplomatic Studies at The Fletcher School of Law and Diplomacy, Tufts University. A Ph.D in History from Harvard University, he is a past President of the United Nations Association of Greater Boston (UNA-GB) and member of the National Council of the United Nations Association of the United States of America (UNA-USA). He has served as a Vice President of the World Affairs Council of Boston and as a member of the Board of Directors of the Boston Committee on Foreign Relations. He is a member of the Council on Foreign Relations in New York. In his academic career, he was Visiting Professor at the European Commission in Brussels 2005, Guest Lecturer in diplomatic studies at the University of Pretoria 2009, Fulbright Schuman Professor of US-EU Relations at the College of Europe in Bruges 2010-2011, and a lecturer at the Estonian School of Diplomacy in Tallinn 2014-2015. He has also written widely on the history and current problems of American foreign policy, U.S.-European Union relations, and the role of the North Atlantic Treaty Organization. 
---
Leonidas Evangelidis graduated from the Aristotelian University of Thessaloniki and served as Ambassador of Greece in the Federal Republic of Germany for three years 1987-90 and as Permanent Representative of Greece in the European Union from 1992 to 1993. From 1995 to 2000, he was Director General for the Common Foreign and Security Policy of the EU at the Council of the European Union. Between 2004 and 2006, he held the office of the Secretary General of the Ministry of Public Order and from 2006 to 2007 he was appointed President and Chief Executive Officer of the Center for Security Studies. Mr. Evangelidis served as a Non-Executive Director of Hellenic Telecommunications Organization SA between 2009 and 2010. He has also served as Chief of Cabinet of the Deputy Minister of Foreign Affairs.
---
Julian Jones is an expert in international talent development at the pre-collegiate level with a Ph.D in International Relations from the Fletcher School of Law and Diplomacy. His career as a faculty member, academic administrator, development officer, and consultant has taken him to live and work in countries such as Denmark, Germany, France, Turkey, Ethiopia, Austria, Thailand, Taiwan, and Japan. Prior to become Vice President for Institutional Advancement at the University of Maryland University College, he headed the university's programs on US military bases in Asia and established the first non-military University of Maryland programs in Japan, Malaysia, and the Soviet Far East. In 1998, Dr. Jones joined the Johns Hopkins University Center for Talented Youth and has been responsible for developing international programs for high ability students, working with governments and private foundations in countries such as Saudi Arabia, Greece, Malaysia, and China.
---
John Koenig has joined the Foreign Service in 1984 and has held a number of senior positions in U.S. diplomatic missions in Europe. A graduate of Foreign Relations from Johns Hopkins University, School of Advanced International Studies, Washington, DC, he was Vice Consul at the American Embassy in Manila, 1984-85. For two years between 1985 and 1987, Mr. Koenig was Political Officer at the American Embassy of (East) Berlin. Between 1990 and 1993, he worked on the same position at the American Embassy in Jakarta. He served as Political Counselor at the American Embassy in Nicosia 1994-97, as Political-Military Officer/Deputy Political Counselor at the American Embassy in Athens 1997-2000, as Principal Officer at the American Consulate General Thessaloniki 2000-03, and as Acting Permanent Representative for launching NATO's support for the African Union Mission in Sudan in 2005. Between 2003 and 2006, Mr. Koenig was Deputy Permanent Representative and Deputy Chief of Mission at the U.S. Mission to NATO in Brussels.
---
Nikos Konstandaras is managing editor and a columnist of Kathimerini, the leading Greek morning daily. He is the founding editor of Kathimerini's English Edition, which is published as a supplement to The International Herald Tribune in Greece, Cyprus and Albania and founding editor of AthensPlus, a weekly published by Kathimerini and the IHT. He worked as a correspondent for The Associated Press from 1989 to 1997 before joining the Greek press and has reported from many countries in the region. He is a panelist on PostGlobal, a "global conversation" produced by The Washington Post and Newsweek.
---
Gerry Stoker is Centenary Research Professor at the University of Canberra, Australia and also Professor of Politics and Governance at the University of Southampton, UK. He was the founding chair of the New Local Government Network (UK) which was the think-tank of the year in 2004, senior policy advisor on local government reform to the Blair Government and author of the award winning book "Why Politics Matters: Making Democracy Work". He has authored or edited over 20 books and published over 70 refereed articles and chapters. In 2012 Mr. Stoker was appointed as the founding director of PublicPolicy Southampton, a unit within the University that seeks to connect high quality research with policymakers.
---
Marten Van Heuven graduated from Yale University and from Columbia University, and served in the U.S. Foreign Service in several European countries, some of which are Romania, Albania and Yugoslavia. Starting his career in the Department of State's Office of the Legal Adviser, his Foreign Service assignments included Berlin, NATO, The Hague, and Bonn. He also served as National Intelligence Officer for Europe from September 1987 to May 1991, a position responsible for the analysis of European and Canadian issues. Mr. van Heuven was Deputy US Permanent Representative to the UN, Geneva, worked in the Office of East European Affairs, served as Director of West European Affairs and served a tour in the US Arms Control and Disarmament Agency. He is a Lifetime Director of the Atlantic Council and his papers document his career in the United States Foreign Service and at RAND.
Member Emeritus