Holocaust and Genocide Studies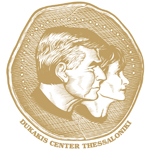 ACT offers undergraduate teaching and organizes extracurricular and outreach activities regarding the Holocaust and other historical instances of genocide on a regular basis. ACT's Bissell Library contains a collection of print materials and other resources on the Holocaust and the Armenian Genocide, which make of ACT an ideal destination for people seeking to study genocide as it relates to the different communities of Thessaloniki.
The Dukakis Center hosts an annual lecture on the Holocaust and other events on the theme of comparative genocide. Speakers in this series have included Taner Akcam and Debórah Dwork, both of Clark University, Thessaloniki-based historian Rena Molho, Devin Naar of the University of Washington, and local journalist Popi Asteriadou.
In 2015 the Dukakis Center will host a series of events marking the 100th anniversary of the Armenian Genocide.