Lucy Center for Balkan Studies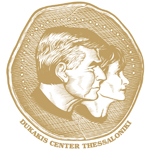 The Lucy Center for Balkan Studies was established in 2004 thanks to a generous donation from ACT friend and trustee, Elias Kulukundis, and named after his late wife Lucy. The Center was created to facilitate the formal study of Southeast European affairs, particularly for undergraduate study abroad students spending a semester or academic year at ACT. Students studying at the Center have the opportunity to do formal coursework in Balkan Studies, participate in study trips throughout the region, and, in select cases, undertake formal internships in regional organizations.
The Center for Balkan Studies also acts as a clearinghouse for information about the Balkans and the Aegean Basin, and as a forum for debate on regional issues. In particular, a lecture series has been established for discussion of such important topics as civil society, democratization, and European and transatlantic integration. The Center for Balkan Studies supports the annual Borjan Tanevski Memorial Fund essay competition.