Pella Project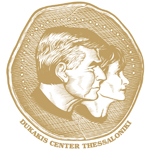 ACT offers to non-degree students the opportunity to gain a broader understanding of the rich heritage of Hellenism, both ancient and modern.  Courses are taught by leading practitioners throughout the academic year, including during accelerated summer sessions. Formal certificate programs exist, consisting of one academic course, one language course, and study trips organized by the Office of Academic and Student Affairs.
The courses feature additional extracurricular support activities, including walking tours of Thessaloniki, and study trips to Aristotle's school in Naousa, the Macedonian palaces of Pella and the royal tombs of Vergina, and important archeological sites at Dion, Stagira, Olynthos.
To complement these academic activities the Dukakis Center has launched the Pella Project, which consists of a rigorous effort to re-situate Pella, Thessaloniki, and Macedonia in the history of ancient and modern Greece. Accordingly, the Dukakis Center hosts regular guest lectures on all facets of Greek history and culture.